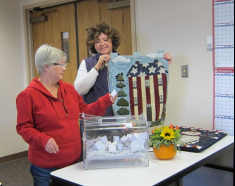 The Trick or Treaters are few and far between tonight, and there is time to get caught up on some of my ToDo.

Our meeting this month was chatty, fun and we got some hooking done! But, most important of ALL. . . . .We had our drawing!
Congratulations to Susan Naples of Santa Ana, CA - the winner of our CRFG Raffle!

Well, I am heading out to TX in the morning to McGown teacher's workshop. Still have a lot of packing to do!

Have a Boofully, Happy and SAFE Halloween!