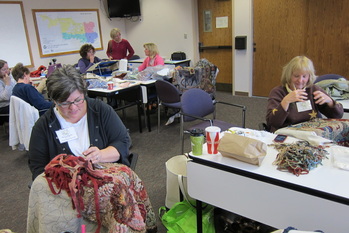 Our November meeting was so fun! We had a very short "take care of business discussion" and then HOOKED! What fun! We had a delightful visitor, Linda, who made the rounds and talked with everyone about individual projects. I hope that she will join our group! So, most important for every member who will be joining us for our December 8th meeting:
The meeting begins at NOON! Please bring cookies, a dip and dippables or any kind of snack food to share — and also bring (3) strips of wool that measure 3" by 18"! This can be as is, hand dyed or recycled. We will be kicking off the holiday season with a fun game!

Our thoughts and prayers go out to our good friends Sue — who is recovering from ankle surgery; Lisa — recovering from foot surgery; Sharon — recovering from hip surgery and especially Winnie. We miss all of you!


More photos posted on the Photo Album Page.