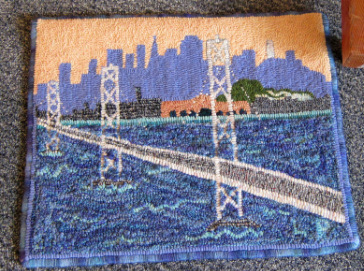 I am sure many of you remember this rug from our Denver Hook In rug show last year. We had many wonderful rugs and I hope that as you are planning on joining us for this fun event again this year, that you will consider bringing several of your rugs to put in our show! The more the merrier and we love having a good time!


Laura Pierce will be coming to teach in June of 2013. . . . . that will be June 17, 18 and 19th! We have reserved Kendrick cottage for this fun camp. Lunches will be catered from a local restaurant. . . so all you have to think about is HOOKING and learning from this nationally acclaimed teacher! What a fantastic opportunity to come and get in on a great teacher at a fantastic rate! Cost of the camp for local members is just $175.00! Yep, it is a deal! We still have a couple of slots left for those who still want to get in on the fun. You can contact any board member for information (see email addresses on the home page.) Cost of this camp for non ATHA members is an additional $50. . . . which is still a deal. . . AND you will automatically become both ATHA national and local members to boot.


Laura's class is an open class, so feel free to bring whatever pattern you are interested in. She will have wools in portrait colors available. Laura is very adept at both fine and wide cut hooking and is an excellent source for learning wide cut portraits and landscapes!