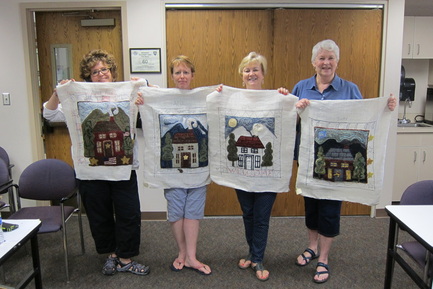 Just showing off their perfect model stances (check out their feet) AND their rugs from the Judy Cripps class are Mary Ann, Amy, Barbara, and Judy P.
They are ready to start their borders!
Big news for the guild is a change in dates for the 2014 Denver Hook In. We have moved the date to the Fall so that we are not competing with all of the graduation events that occur in the Spring. The 2014 Hook In will be September 13th. Cynthia Norwood will be the guest speaker and she will be teaching a camp prior to the Hook In (dates - Sept 10 - 12, 2014). So, be sure to sign up if you are interested in taking a class from Cynthia! That class will be held at the same church where we have the Hook IN - in the Commons Room.