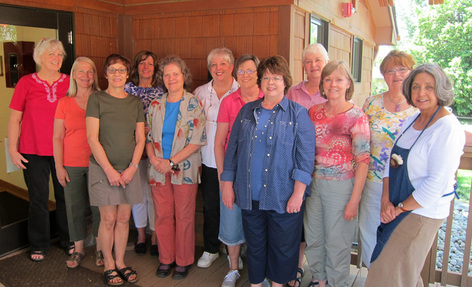 L - R: Cheryl, Sharon, Sheri, Shawn, Laura, Londi, Emily, Sue, Judy, Carolyn, Gloria and Pam.
Laura's camp was held at beautiful Kendrick Cottage in Golden. The cottage has great lighting supplemented with lots of natural light coming in through clerestory windows. Laura brought some luscious wool and lots of gorgeous rugs to show. Students chose a variety of subjects and the class was made up of 5 people working on human portraits, 1 working on a trio of animal portraits, 3 students concentrated on landscapes and 2 brought florals that they had b.
Look below to see some of the rugs that Laura brought with her to inspire the class. We learned several new techniques for perfecting foliage and backgrounds. It was a fun 3 days and we got a lot accomplished!