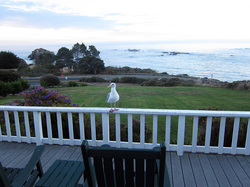 I am back from Little River and here is a view off my deck. . . . complete with visitor who came every morning looking for a hand out.

Wow! This year has flown by! Our guild is taking a program break until the new year. BUT, we will get together on the 23rd of November at the Arvada Police station to hook together from 9 a.m. until 4 p.m. Bring snacks to share.

In December we will meet on the 28th from 9 - 4. Bring 4 - 5 (3" x 12" or longer) wool strips if you are interested in the RLC game! Everyone is bringing snacks for this holiday meeting.