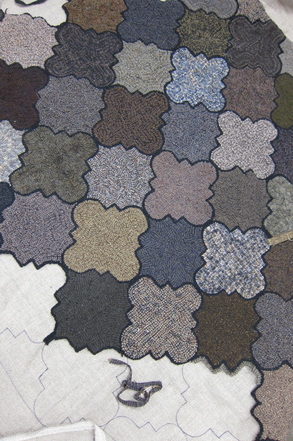 Well the year is off to a fantastic start, but today we are about to blow away! Winds are terrific, making this a grand day to stay inside and hook.

Our January meeting will be held at the Arvada Police station from 10 - 4. Doors are open at 9.
At the December meeting the attendees decided on a bulk wool purchase in March. So, please put the date on your calendar and be sure to show up if you want to participate in that bulk buy.

If you have checked out library books, please be sure to return them. There are several that have been out for a long time and need to be shared with others.

There is a new nominating committee chaired by Ginny Waldera. We will have election of new officers in May. So, if you are interested in serving as a board member, or if you want to suggest someone, please see Ginny.

Your money for the Maggie Bonanomi camp in July is due this month. Please send your deposit check for $100 to Gloria Shone. The final payment will be due in March. Right now we are guestimating a figure of $250, total for the camp. Carol will be able to calculate a more accurate amount this week.

Quink will soon have 2 new bolts of linen from Michele Micarelli. So, if you have need for linen backing you know who to call! She will also be getting in the tape for the backs of the rugs.

Rocky Mountain Sew Expo is coming up! This is a FUN event that always draws a big crowd and affords us the opportunity to demo rug hooking, and draw in new members.
February 6,7,and 8th are the dates. Teresa will be sending out sign up forms — thank you for all of you who participate in this fun event.

Meeting dates have been confirmed through March. Pam keeps us on track by organizing this meeting space. February date is the 22nd and March will be the 22nd as well. Doors open at 9 and we can hook until 4.