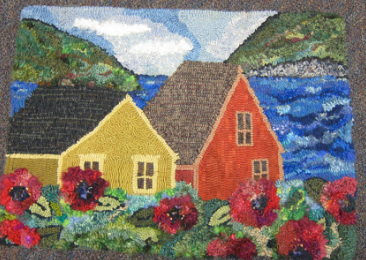 The April meeting was a lot of fun. There was lots of food, a mad dash for our wool orders, a drawing for a humongous carry-all for that wool (thank you Mary Ann). Also many thanks to Carol Rutledge, who handled the order and for everyone on the team who met at Quink's house and helped rip 220+ yards of wool. It is amazing how wool hungry we can get!
Another thing that we did at the meeting was draw patterns so that we can join in the Chicken Challenge from the rug hooking guilds in Lancaster County.Read more about this in an earlier post. the paper pattern will be available at the May meeting as well.

We will be electing a new Board during the May meeting. The candidates and respective positions are:
Pres. - Mary Ann Goetz
VP - Amy Miller
Secretary - Linda Iriye
Treasurer - Gloria Shone

During our April meeting we discussed several topics and need to make decisions on those at the May meeting. One topic up for discussion was the need for a routine way for guild members to know about and sign up for Teachers who are coming in to present camps in Denver. The following proposal was made during that meeting:

Proposal regarding participation of members and nonmembers in rug hooking camps sponsored by CRFG.

Premise: Camps are for the benefit of current, active members of the guild.

The following procedure is proposed for enrolling participants in CRFG rug camps:

1. Upcoming camps will be announced at the guild meeting and posted on the CRFG web site. If a member is unable to attend a meeting, it is the member's responsibility to review upcoming events on the website.

2. A member may enroll in a camp by submitting her/his name with a nonrefundable deposit of $50.00. (The deposit will only be refunded if the member's name is not drawn and the camp is filled.) If your dues are not current, you cannot sign up for a class.

3. On a designated date to be determined by the guild, the names of all enrollees will be placed in a jar and drawn at random until a total of 12 names are drawn for each class offered. The first name drawn will be able to pick the date of the class she wishes to enroll in (if more than one session is offered). The enrollees will be notified and will have ________days to confirm their participation.

4. If an enrollee withdraws her name or fails to confirm the enrollment by the set day, that slot will go to the next member on the list. The deposit will not be returned.

5. Refunds of deposits will only be returned to members whose names are not drawn.

6. Non-members may only enroll after guild members have had the opportunity to enroll. After the above deadlines, non –members may enroll in the class. Names of interested non-members will be place on a list, first come/first served basis pending an opening in the class. A $50.00 deposit must be included with the request to be placed on the list. Non-members will be charged an additional $50.00 non-refundable premium to help cover instructor costs. Non-members will have all monies returned if the course is closed and there is no room available.

Please do think about this proposal and bring your ideas so we can discuss them and create a set of guidelines for our guild.


• Another thing that we would like to talk about at the May meeting is what we will do for Programs for the upcoming year! Please put some thought into what you would like and lets get a calendar made for the year at this meeting.

• Further consideration on the table is whether or not the guild will subsidize the costs for camps out of the guild treasury. This has been discussed in the past and current interest requires that we revisit this topic.

Quink will have linen and red dot available for those who need it.

Please bring your hooking, your good humor and laughter. We will quickly dispense with business and get on to our primary interest - RUG HOOKING! See you soon!